For the second time in a row, the openers at the Hi-Dive had a mishap of some sort and couldn't make it to the show (this time the culprit was a bet on whether or not a certain physical feat could be accomplished. The squibs in
Awesome New Republic
have learned their lesson ... or so they say). Thankfully the bill still had two killll bands, Telekinesis! and An Horse. You may recall that I'm a bit of a fan of An Horse. I did not know about the cancellation of the opener, so I got there about an hour too early. Thankfully I ran into the talented and friendly freelance photographer
Denise Chambers
, there that night for the Denver Post. Because I was flying solo that night, it was nice to have a friendly face to chat with prior to the show.
Telekinesis!
, the band that every other press person was there to see (it seemed), opened this night. Apparently they bands have been trading off on headlining over the past few weeks. I love when that sort of thing happens. I had never heard of them, but they appeared to be the band on everyone's wish list, because as soon as they started, the bar emptied (even of a couple of bartenders) and the venue side filled. I have to say I was fairly impressed with Telekinesis!, not that I was expecting anything unsatisfactory. They are a sort of indie pop band working the drummer-as-lead-singer/songwriter (actually it's pretty much him [Michael Benjamin Lerner] + tour band as I understand it) just about as well as I've ever seen it done. These were not simple drum beats either, so I do have to say ku.dos.
A sort of Dream pop indie rock feeling grooved through the place nicely, with few interruptions. At one point, one of the guitar players, David Richard Broecker, took out his phone and read a text that Kate Cooper, singer/guitar player of An Horse, had sent him as they took stage. The loving message said a great deal of things, but they mostly revolved around the idea that Telekinesis! "fucking sucks" and is an "embarrassment to be on tour with." David could almost not contain his laughter, which just about made the moment.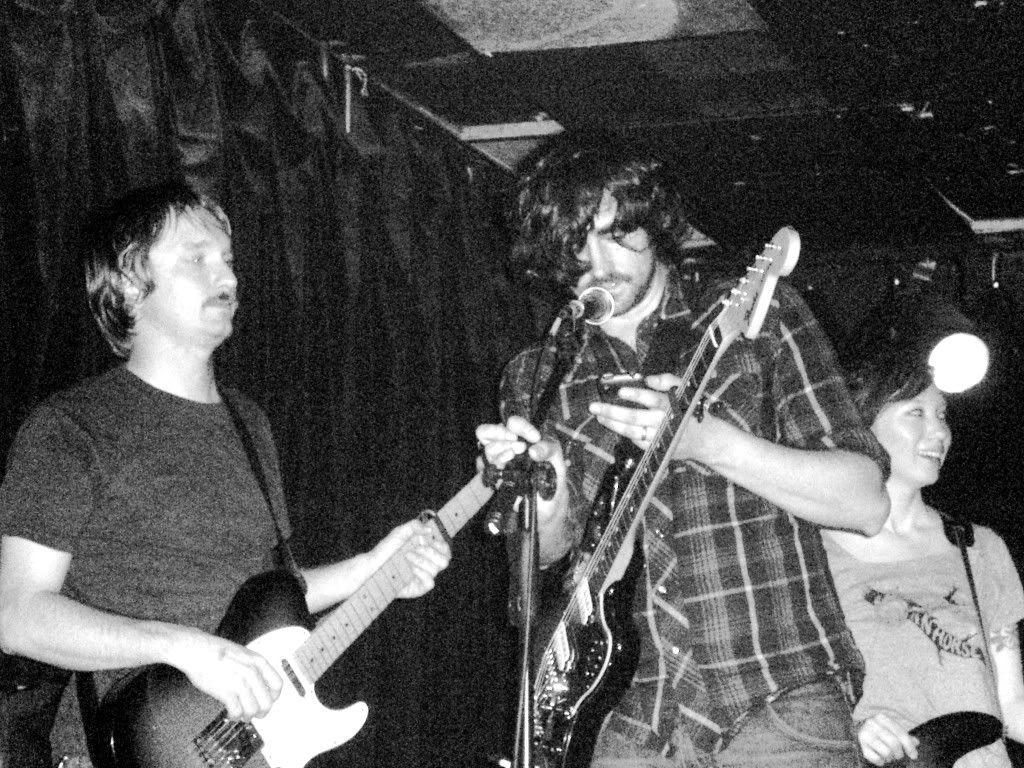 A few songs after that, Damon Cox, drummer for An Horse, took the stage, sitting at a drum set near the back of the stage, and during the next song, drummed along with Michael. I flipping love the added texture and theatrics of a second drummer. I don't think that will ever get old for me. After that song, David received another text from Kate, which said, again, that Telekinesis! sucks, but that the background drummer on the last song was totally wicked. I love when bands love each other this much, it just makes the whole situation warmer and more entertaining. Damon and Kate, joined by their touring manager Lizzy, jumped up on stage for the last few Telekinesis! songs to bring it all home.
Telekinesis! - Coast of Carolina
Telekinesis! - Awkward Kisser
Telekinesis! - I Saw Lightning
After a short break and some rearranging of things on the stage,
An Horse
took the stage (I feel strange about saying that when it's only two people...). I have an undying respect for duos that are not boring, or essentially just a one-person-show + background drummer. Pulling of two-person band is hard, and I can really tell that this duo has put so much love into this band that they're almost bursting. Damon, also the drummer for Intercooler and Mary Trembles, is quite simply, amazing. Same could be said about Kate, also of Iron On.
Their songs are not mega complex, which, for them, works, because for what they seem to be going for, they would flounder and die if they got all Buckethead + Hellhammer on stage, because that's not what the point of An Horse's music seems to be. I don't claim to know what their purpose is, but I do know that their dirty, distorted, rock and roll sound quite simply works. Their songs were just about exactly like their recorded stuff, which, on some levels, was exactly what I wanted. Their banter between songs was just adorable and hilarious, and, when Michael came on stage to drum along to a few An Horse songs (joined by David and Lizzy on egg shaker and tambourine), their banter with Telekinesis! was simply darling. These bands loved each other. There was even a gift of "returned" underwear, that An Horse playfully adorned the stage with.
After Michael left to return the stage solely to An Horse, he playfully mocked Damon, telling him his flams were a little weak tonight, and that they would work on them later. Heartwarming haha :).An Horse closed the night off, telling us we're all too nice for staying up later than they would dram of on a Tuesday night. I do have to say that they were one of the friendliest bands I've seen in a while. Quite a pair of charmers.
An Horse - Postcards